Dear customers, we are unable to access our warehouse in Brookvale Sydney due to a fire.We are unable to process any orders until further notice.Apologies for this inconvenience.
Keep your laptop, DSLR, and smartphone charged with the Array Solar Backpack.
Perfect for photographers and travelers, this solar powered backpack provides 10 Watts of solar power and thoughtful storage for all your gear and devices.
Features :
25L of storage with dedicated smart pockets for charging devices on-the-go
Padded laptop/tablet sleeve ( fits most 15" laptops), large main storage compartment and plenty of convenient storage for cables, adapters and tablets
Expandable water bottle pocket with tripod carry strap
Fabric made from recycled PET (soda bottles) is waterproof, lightweight and UV resistant
High density molded back section with breathable mesh shoulder harness for ultimate comfort
Size and Weight
48.3 high x 27.9 wide x 17.8 deep (cm)
5.4lbs including battery and solar panels
Solar Panels
9 Watts at 6 or 18 Volts (selectable based on charging applications)
Waterproof, UV-resistant ETFE coating
Monocrystalline cells - 20% Efficient
V88 USB-C Power Delivery Laptop Battery
Capacity: 24,000 mAh / 88.8 Watt Hours
Output: 12V/6A, 16V/5A, 19V/4.5A, 24V/3.5A
USB QC: 5V/3A, 3.6V-12V, 18W Max.
USB-C PD: 5V/3A-20V/2.2A
USB-C PD Input: 20V/2A
DC Input: 18-25V/3A
Protection: Short Circuit, Over Charge, Over Discharge, Over Current, Over Temperature
Battery Size and Weight
1.5 pounds (702g)
21.8cm x 13.7cm x 2.2cm
(VARRAY9W18V88)
Includes Array Solar Backpack +
Array Solar Backpack
V88 Universal Laptop Battery Pack
18V AC Charger
Laptop Output Cable
Car Charger Socket
| | |
| --- | --- |
| SKU | VARRAY9W18V88 |
| Brand | Voltaic |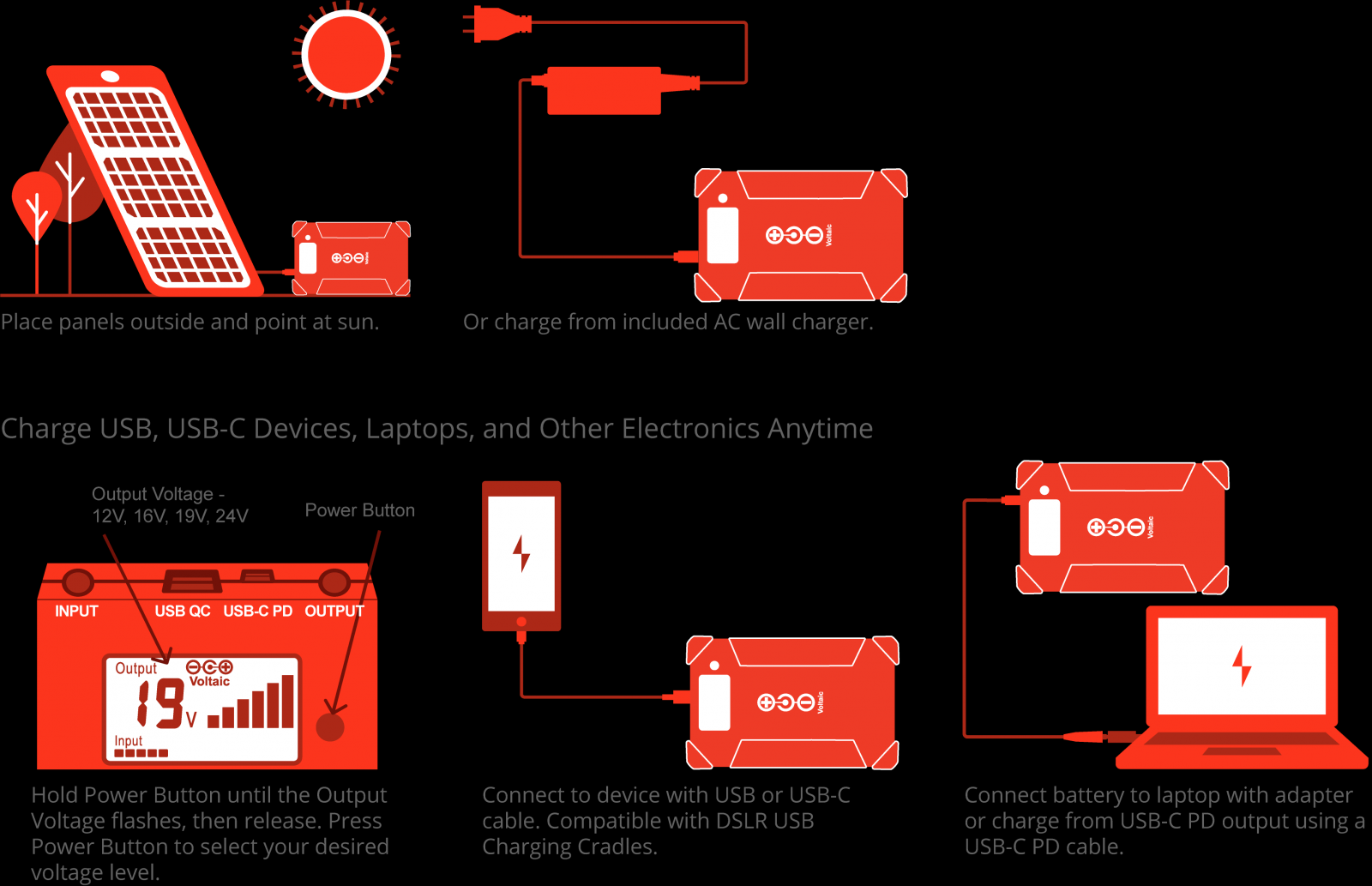 Smartphones:Charges all USB Devices including all Apple, Android, Google, and Blackberry smartphones.
Tablets: Charges both DSLRs and point-and-shoot cameras that charge from USB. For DSLRs, an optional camera charger cradle that matches your camera battery (see Adapter Section) is required. Read our tutorial on solar camera charging.
Microcontrollers:: Compatible with most microcontrollers including Arduino and Raspberry Pi.
Microsoft: Surface Tablets require an optional Microsoft Surface 2 Cable - VSURFACEPRO2 or optional Voltaic Surface Pro 3 & 4 Cable - VSURFACEPRO3-4. Set the V88's output to 12 Volts for Surface tablets.
ASUS: Transformer Tablets require the optional FUSB - 5521 adapter used with your own ASUS Transformer USB Cable. Set the V88s output to 12 Volts for Asus tablets.
Digital Cameras: Charges both DSLRs and point-and-shoot cameras that charge from USB. For DSLRs, battery charging the optional Solar Battery Charger ST - CamCaddy 2: Universal Charger for camera batteries - STCC1010 is available if required.
Laptops: Charges nearly all 15" laptops or smaller. Additional details and known exceptions follow. Gaming laptops are not compatible
USB-C Laptops: Quickly charge your USB-C laptop from the USB-C PD Output using a USB-C PD rated cable (not included).
Acer: Use our included "N" or "E" adapters
Apple: Pre-June 2012 laptops require the optional Voltaic Magsafe Adapter - VMAG. Post June-2012 laptops require the optional Voltaic Magsafe 2 - VMAG2. For newer MacBooks that charge from USB-C, use the Apple USB-C Charge Cable that came with your device. Read our guide to charging MacBooks for more information. ASUS: Most use either the included battery output cable or included "N" or "L" adapters. UX, Q200, S200 Series require our optional 4.0 x 1.35mm adapter.
Dell: Use the included "J" or "I2" adapters for some Dell laptops. Dell Inspiron / Latitude / STUDIO / VOSTRO series laptops require our optional Dell 7.4mm adapter. Dell Ultrabook / XPS series laptops require an optional Dell 4.5mm adapter.
HP: Some older HPs use the included "J" adapter. Envy series uses included "D" adapter.HP Business / COMPAQ / Pavilion / Elitebook series laptops will require our optional HP 7.4mm adapter. Other HPs may require an HP 4.5mm adapter. Lenovo: Use included "K" or "M" (rectangular) adapter
Panasonic Toughbook: Use included Voltaic battery output cable
Samsung: Most modern Samsung use included "E2" or "Q" adapter.
Sony VAIO: Duo and Pro use included "D" adapter Toshiba: Most use included Voltaic battery output cable.
AA / AAA Chargers: If your device (headlamp, flashlight, radio, etc.) uses rechargeable AA / AAA batteries, confirm the device can safely charge from a 2A power supply, before charging from the V72/V88 USB port. To ensure safe charging to your AA / AAA batteries, consider using our VUSB AA/AAA Charger
Medical Devices: Not compatible with any medical devices, including CPAP machines.

---
More From This Category