Dear customers, we are unable to access our warehouse in Brookvale Sydney due to a fire.We are unable to process any orders until further notice.Apologies for this inconvenience.
Solar Panel
Our most powerful panel, the Arc 45W Solar Panel will power your most power hungry gear. Pair with our V88 Laptop Battery to charge laptops and USB devices.
ETFE Coated Panel Lasts 2-3X Longer Than Similar Folding Solar Panels
V88
The V88 Portable Laptop Battery with USB-C Power Delivery charges USB-C laptops 3x faster away from the grid. Compatible with most consumer laptops (including MacBooks with an optional adapter), smartphones, tablets, DSLR cameras, and consumer drones.
USB-C Power Delivery (up to 45W)
Hi-Voltage Laptop Port (12V, 16V, 19V or 24V)
USB Quick Charge 3.0
Pass Through Charging
Built-in "Always On" feature for IoT and Time-Lapse Projects
(VARC45W88K)
Solar Panel
Features
Size and Weight
Solar Panel Open: 119.2 x 28.3 x 0.3cm
Solar Panel Folded: 29.3 x 28.3 x 1.9cm
Weight: 1.51kg (3.33lbs)
Solar Panel Output
Monocrystalline cells - 19% efficient
Open Circuit Voltage: 20.0V
Peak Voltage: 18.4V
Peak Current: 2.3A
Peak Power: 44 Watts
Solar Panel Construction
Integrated 750mm 22 AWG cable
ETFE coating
2mm substrate
COMPATIBILITY
Recommended for use with Voltaic V250 Laptop Battery and V88 Laptop Battery for charging laptops, including MacBooks and Surface Books
V88
ITEM: V88-K
Size and Weight
21.8 x 13.7 x 2.2 cm
714 grams
V88 Laptop Battery with USB-C PD
Capacity: 24,000 mAh / 88.8 Watt Hours
Output: 12V/6A, 16V/5A, 19V/4.5A, 24V/3.5A
USB QC: 5V/3A, 3.6V-12V, 18W Max.
USB-C PD: 5V/3A-20V/2.2A
USB-C PD Input: 20V/2A
DC Input: 18-25V/2A
Battery Type: Li-Polymer
Protection: Short Circuit, Over Charge, Over Discharge, Over Current, Over Temperature (35℃ Input Cutoff, 45℃ Output Cutoff), Under Temperature (0℃ Input Cutoff, -20℃ Output Cutoff)
Safe for air travel (Carry-on Luggage Only)
AC Charge Time
2.5-3 hours from included AC charger
Includes:
V88 Universal Laptop Battery Pack
18V AC Charger
Standard Laptop Adapters
Laptop Output Cable
Car Charger Socket
| | |
| --- | --- |
| SKU | VARC45W88K |
| Brand | Voltaic |
V88 Battery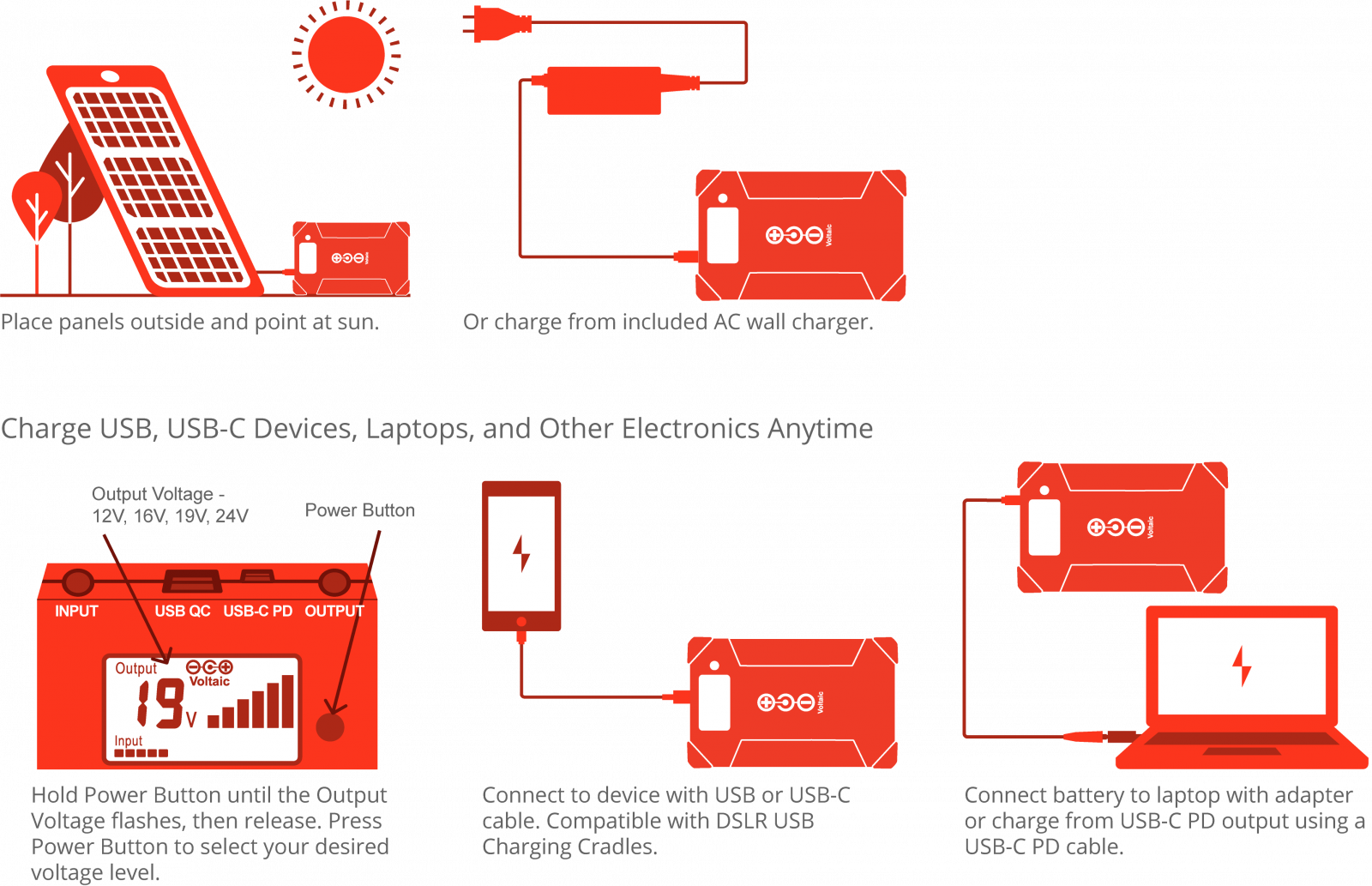 Solar Panel
Compatible with:
V88 Universal Laptop Battery Pack
V250 Universal Laptop Battery Pack
(V250 not available in Australia)
V88
Compatbility
Smartphones:
Charges all USB Devices including all Apple, Android, Google, and Blackberry smartphones.
Tablets:
Charges all known tablets using the manufacturer's USB charging cable.

Digital Cameras:
Charges both DSLRs and point-and-shoot cameras that charge from USB. For DSLRs, an optional camera charger cradle that matches your camera battery (see Adapter Section) is required. Read our tutorial on solar camera charging.

Microcontrollers:
Compatible with most microcontrollers including Arduino and Raspberry Pi.
Laptops:
Charges most consumer grade laptops (15" or smaller) from one of our Standard or Optional Laptop Adapters.Note: Gaming laptops are not compatible with the V88 due to high power requirements that exceed the maximum output of the the battery.
USB-C Laptops: Compatible with all laptops that charge from USB Type C. Charge directly from the USB-C PD Output using a USB-C to USB-C laptop cable (not included).
Acer: Standard "E" or Standard "L" Adapter
Apple: Optional MagSafe 1 or Optional MagSafe 2 Adapter. Read our guide to charging MacBooks for more information.
ASUS: Standard "C" Adapter or Optional 4.0 x 1.35 mm Adapter
Dell: Standard DELL Adapter or Optional Dell 4.5 x 2.8 x 0.6 mm Adapter
HP: Optional HP 7.4 x 5.0 x 0.6 mm Adapter or Optional HP 4.5 x 2.8 x 0.6 mm Adapter
Lenovo: Standard Lenovo Square Adapter, Standard "G" Adapter, Standard "K" Adapter, or Optional Lenovo Slim Tip Adapter
Microsoft: Optional Surface Pro / Book Adapter or Optional Surface 2 Adapter
Samsung:Standard "H" Adapter or Standard "C" Adapter
Toshiba: Standard "G" Adapter, Standard "C" Adapter, or Optional "B" Adapter
For additional information, visit our Laptop Adapter Guide.

AA / AAA Chargers:
If your device (headlamp, flashlight, radio, etc.) uses rechargeable AA / AAA batteries, confirm the device can safely charge from a 2A power supply before charging from the V88's USB port. To ensure safe charging to your AA / AAA batteries, consider using our USB AA / AAA Charger.

Medical Devices:
Not compatible with medical devices, including CPAP machines.
V88
Device Charge Times
| | | | | | |
| --- | --- | --- | --- | --- | --- |
| Device | V88 Battery | Smartphones | DSLR Cameras | 9" Tablets | 13" Laptops |
| Number of Charges from Battery | - | 7.3 | 5.2 | 3.5 | 1.3 |
| Hours to Charge from Solar Panel* | 6.0 | 0.8 | 1.1 | 1.7 | 4.6 |
*Solar charge times based on use with the Arc 20W Watt Solar Panel.
Battery can be recharged from an 18V solar panel or included AC wall charger.
---
More From This Category