Dear customers, we are unable to access our warehouse in Brookvale Sydney due to a fire.We are unable to process any orders until further notice.Apologies for this inconvenience.
How to solar power your gadgets on a Kayak?
Author: Steve Hegarty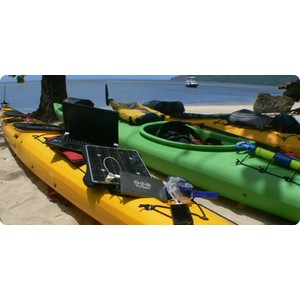 This is a quick guide on how to charge your gadget on Kayak
We have quite a few customers who ask about solar charging on a kayak. We spoke to the folks at Voltaic Systems who came up with the solution for solar charging laptops, ipads and phones whilst paddling.
See the following link which relates to the Voltaic Solar Laptop Charging package : Voltaic Seaweed Project.
We stock the Nanuk waterproof case made for use with the Voltaic V15 and V44 batteries and alarger case for the V72 batteries. Both cases Nanuk 903 and Nanuk 904 come with a built in 70cm Voltaic lead, with this case you will be able to keep your battery dry while connected to your panel.
For the do it yourselfers, one option is to put the battery in a dry case - in the US they call them Otter Boxes or Pelican Cases and connect to the battery inside the case. You would need to drill a hole in the case and seal it with something like silicone to make it waterproof. Or a storm-proof, but not waterproof solution would be to put the battery in a dry bag with a roll-top.
Another solution is to put a solar charging system such a Voltaic or Goal Zero solar panel and battery in a clear faced dry sack and attach it to the kayak.
If you are around salt water, you should cover any connections exposed to salt water with silicone tubing ( Please Google it for pictures References ). It's also advisable to rinse any salt water off with fresh water if it accumulates on a connection.
For those looking for a lightweight, semi flexible 12v panel. We have this product for you.