Dear customers, we are unable to access our warehouse in Brookvale Sydney due to a fire.We are unable to process any orders until further notice.Apologies for this inconvenience.
Voltaic V72 Universal Laptop Battery
This 20,000 mAh / 72 Watt Hour battery will power most laptops, tablets, smartphones and digital cameras. Features two output ports: a hi-Voltage port for laptops and a USB port for phones and iPads. The V72 charges from included AC charger or optional 18 Volt solar panel.
Capacity: More than doubles many laptops' runtime, charges smartphones up to 8 times and tablets up to twice.
This battery is normally supplied in the 10W Voltaic Array Backpack, The 10W Fuse and The Generator (with a 16.8W panel). It can be used independently as a spare battery for a laptop or you can also be used with the 16.8W, 18V Voltaic Solar Panel using 1 Panel Circuit box to connect.
Battery Specifications
Output: 5V/2A, 12V/4A, 16V/3.5A, 19V/3A (two output ports)
Input: 14-20V, up to 4A
Maximum Output Power: 57 Watts
Output Capacity: 20,000 mAh
Charge Time: 7 hours in direct sun from 16 Watt panel, 12 hours direct sun from 10 Watt panels.
Battery Type: Lithium Polymer
Protection: Short Circuit, Over Charge, Over Discharge, Over Current, Over Temperature
Weight: 500g
Dimensions: 185 x 125 x 14 mm
Charge Display: LEDs light sequentially when charging.
Capacity Display: 1 light < 20%, 2 lights < 40%, 3 lights < 60%, 4 lights < 80% full, 5 lights > full
Useful Tips
Try setting Voltage one lower than your laptop charger's output first. i.e. if your charger says 19V, try 16V setting on Voltaic battery first. This saves power.
This battery will work best with smaller, more efficient laptops
Change your power management settings to Maximum Battery Life & Turn off WiFi
Some laptops will run from the Voltaic battery with their internal battery removed. You should turn off your laptop before the Voltaic battery is fully drained to avoid crashes.
Remove the cable from your device before changing Voltage between 12, 16 and 19Volts.
We recommend storing and charging the battery in a cool place.
If you don't see the correct adapter for your device, please use the manufacturer supplied USB cable or please contact us via email or call us.
(V72)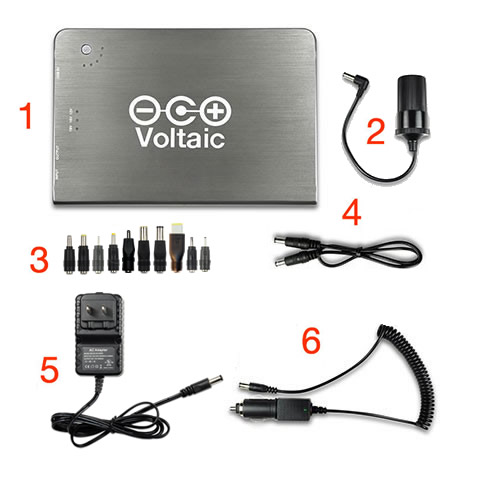 Includes:
V72 Laptop Battery
Car Charger Socket - 5.5 x 2.5mm - charges devices that have a car charger
Standard Laptop Adapters
Laptop Output Cable - connects to Laptop Adapters
AC Charger (Australian Adapter) - charges the V72 battery from AC
DC Charger - charges the V72 battery from DC (car)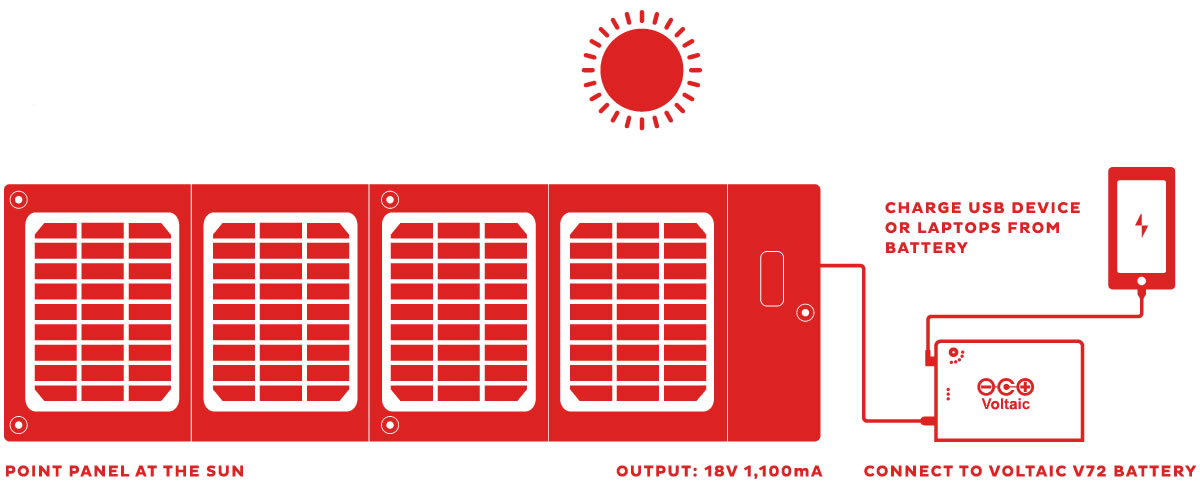 Smartphones : Charges all USB Devices including all Apple iPhones, Android and Blackberry smartphones.
Tablets : Charges all known tablets. Only a few tablets require an optional adapter. ASUS: Transformer Tablets require our FUSB - 5521 adapter
Digital Cameras : Charges both DSLRs and cameras that charge from USB. For DSLRs, optional camera charger cradle that matches your camera battery (see Adapter section) is required. Read our tutorial on solar camera charging.
Laptops :

Charges nearly all 15" and smaller laptops. Additional details and known exceptions follow.
Acer: Use Voltaics standard "N" or "E" adapters
Apple: Pre-June 2012 requires optional reconfigured MagSafe 1 adapter or Apples' Airline adapter connected to Voltaic's standard car charger socket. Post June-2012 MacBooks also require the Apple MagSafe to MagSafe 2 adapter. MacBook Pro 15" may need to be charged in sleep mode. For the latest Macbook's you will require VUSB-C-CHARGER Please contact us
ASUS: Most use either the battery output cable or standard "N" or "L" adapters. UX, Q200, S200 Series require optional 4.0 x 1.35mm adapter.
Dell: Use Voltaics standard "J" or "I2" adapters. Dell's internal battery will run off Voltaic's battery, but may not recharge. This means you should not run your Dell battery completely flat when planning to use an external battery.
HP: HP Business Class laptops will require an optional HP adapter. Envy series uses included "D" adapter. Older HPs use included "J" adapter. Customer incompatibility cited with Elitebook series.
Lenovo: Use included "K" or "M" (rectangular) adapter
Panasonic Toughbook: Use Voltaic battery output cable
Samsung: Most modern Samsung use included "E2" or "Q" adapter.
Sony VAIO: Duo and Pro use included "D" adapter
Toshiba: Most use Voltaic battery output cable
7X smartphone charges from Voltaic battery
3X tablet charges from Voltaic battery
1.7X tablet charges from Voltaic battery
---
More From This Category