Voltaic Fuse 10W Solar Laptop Charger with 72V Battery - NEW
The Voltaic Fuse 10W is designed to easily attach to backpacks, panniers and almost anything else via its flexible buckle and strap attachment system. It is packed with 10 Watts of solar power and a 72 Watt hour universal battery so you can solar charge your laptop, phone, tablet or camera anytime. It's ideal for people travelling to remote places that want to keep in touch using portable solar power.

Solar Charger Specifications
Three 3.4 Watt solar panels generate power in sunlight. They are waterproof, lightweight and rugged.
Power: 10 Watts total peak output at 6 or 18 Volts (selectable depending on charging application)
Charge times:1 hour in direct sun provides up to 30 minutes of run time on a laptop. 1.5 hours of direct sun powers a complete mobile phone charge.
Universal Laptop Battery has 60 Watt Hours of capacity for use anytime and is specially designed to charge efficiently from solar.
Charge times: Battery will be fully charged from 12 hours of direct sun
Capacity: 16,000mAh, 60 Watt hour capacity
Output: 5V/2A, 12V/4A, 16V/3.5A, 19V/3A
Input: 14-20V/4A
Bag Specifications
Dimensions: 42cm high x 27cm wide x 3cm deep
Weight: 1.6kg including battery and solar panels
Attachment Mechanisms: Includes one 19mm strap and 25mm straps with four male/female clip sets as well as crisscross webbing on the back for easy attachment. Female clips can be attached to any "loop" or standard attachment point on a bag or tent. MOLLE compatible.
Fabric: 600D shell made from recycled PET (soda bottles),which is waterproof, lightweight and UV resistant
Volume: 220 cubic inches (3.6 liters), enough room for a netbook, tablet or small laptop in addition to phones, charging cables and documents.
Compatibility
The Voltaic chargers are designed as universal chargers so this is a partial list of thousands of compatible devices. If you have a question about compatibility with your device, please email us at info@multipoweredproducts.com.au

(VFUSE10W72)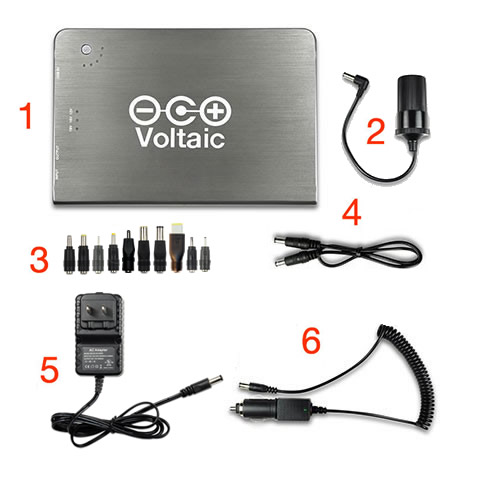 Includes:
Fuse 10W Solar Laptop
V72 Laptop Battery
Car Charger Socket - 5.5 x 2.5mm - charges devices that have a car charger
Standard Laptop Adapters
Laptop Output Cable - connects to Laptop Adapters
AC Charger - charges V72 battery from AC
DC Charger - charges V72 battery from DC (car)
| | |
| --- | --- |
| SKU | VFUSE10W72 |
| Brand | Voltaic |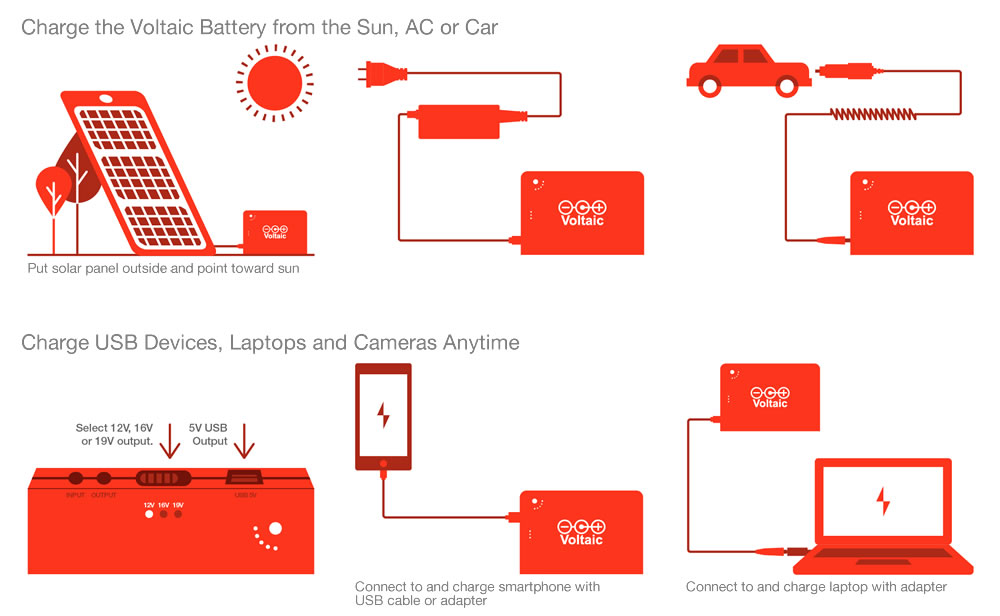 Smartphones : Charges all USB Devices including all Apple iPhones, Android and Blackberry smartphones.
Tablets : Charges all known tablets. Only a few tablets require an optional adapter. ASUS: Transformer Tablets require our FUSB - 5521 adapter
Digital Cameras : Charges both DSLRs and cameras that charge from USB. For DSLRs, optional camera charger cradle that matches your camera battery (see Adapter section) is required. Read our tutorial on solar camera charging.
Laptops :

Charges nearly all 15" and smaller laptops. Additional details and known exceptions follow.
Acer: Use Voltaics standard "N" or "E" adapters
Apple: Pre-June 2012 requires optional reconfigured MagSafe 1 adapter or Apples' Airline adapter connected to Voltaic's standard car charger socket. Post June-2012 MacBooks also require the Apple MagSafe to MagSafe 2 adapter. MacBook Pro 15" may need to be charged in sleep mode. For the latest Macbook's you will require VUSB-C-CHARGER
ASUS: Most use either the battery output cable or standard "N" or "L" adapters. UX, Q200, S200 Series require optional 4.0 x 1.35mm adapter.
Dell: Use Voltaics standard "J" or "I2" adapters. Dell's internal battery will run off Voltaic's battery, but may not recharge. This means you should not run your Dell battery completely flat when planning to use an external battery.
HP: HP Business Class laptops will require an optional HP adapter. Envy series uses included "D" adapter. Older HPs use included "J" adapter. Customer incompatibility cited with Elitebook series.
Lenovo: Use included "K" or "M" (rectangular) adapter
Panasonic Toughbook: Use Voltaic battery output cable
Samsung: Most modern Samsung use included "E2" or "Q" adapter.
Sony VAIO: Duo and Pro use included "D" adapter
Toshiba: Most use Voltaic battery output cable
7X smartphone charges from Voltaic battery
1.5 hours in the sun to charge smartphone
7 hours of smartphone usage from 1 hour in the sun
3X tablet charges from Voltaic battery
2 hours in the sun to charge smartphone
4.5 hours of tablet usage from 1 hour in the sun
1.7X tablet charges from Voltaic battery
3.5 hours in the sun to charge tablet
2.5 hours of tablet usage from 1 hour in the sun
1X laptop charges
11 hours in the sun to charge laptop
40 minutes of laptop usage from 1 hour in the sun
3.5X camera charges
3 hours in the sun to charge DSLR
---
Others Also Bought
---
More From This Category