Voltaic Array Solar Laptop Charger
The Voltaic Array Solar Backpack both carries and charges your laptop. It will also charge mobile phones, tablets and digital cameras. The front solar pocket is removable and can be attached to other bags for convenient charging. Besides charging all your electronics, it has 24.5 litres of storage space, a padded laptop sleeve and plenty of other pockets.

Solar Charger Specifications
Three 3.4 Watt solar panels generate power in sunlight. They are waterproof, lightweight and rugged.
Power: 10 Watts total peak output at 6 or 18 Volts (selectable depending on charging application)
Charge times:1 hour in direct sun provides up to 30 minutes of run time on a laptop. 1.5 hours of direct sun powers a complete mobile phone charge.
Universal Laptop Battery has 60 Watt Hours of capacity for use anytime and is specially designed to charge efficiently from solar.
Charge times: Battery will be fully charged from 12 hours of direct sun.
Capacity: 16,000mAh, 60 Watt hour capacity
Output: 5V/2A, 12V/4A, 16V/3.5A, 19V/3A
Input: 14-20V/4A
Connect to Devices via the the included 9 standard laptop adapters, the USB Port, or 5 standard mobile phone and universal adapters, Micro USB, Mini USB, Nokia N73, 3.5 x 1.1mm and 5.5 x 2.1mm

Bag Specifications
Detachable Charging Section: Solar charging section zips off and can be attached to another bag, bike rack, etc. with the included straps and clips
Volume: 25.5 liters
Dimensions: 46cm high x 35cm wide x 21cm deep
Weight: 2500 grams including battery and solar panels Padded laptop pocket: Dedicated pocket fits up to a 17" laptop (17" MacBook, larger 17" laptops may not fit)
Wire channels: placed throughout the bag for cables and bladder tubes
Built for Comfort: High density padding in the shoulder straps and back. Mesh backing material for better air flow
Fabric: 600D shell made from recycled PET (soda bottles),which is waterproof, lightweight and UV resistant
Compatibility
The Voltaic chargers are designed as universal chargers so this is a partial list of thousands of compatible devices. If you have a question about compatibility with your device, please email us at info@multipoweredproducts.com.au

(VARRAY10W72K)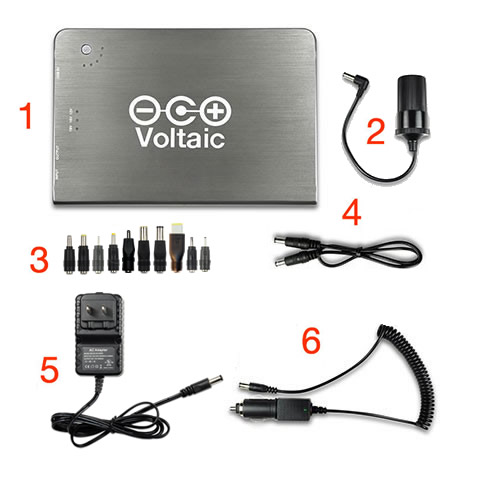 Includes:
Voltaic Array 10W Solar
V72 Laptop Battery
Car Charger Socket - 5.5 x 2.5mm - charges devices that have a car charger
Standard Laptop Adapters
Laptop Output Cable - connects to Laptop Adapters
AC Charger - charges V72 battery from AC
DC Charger - charges V72 battery from DC (car)
| | |
| --- | --- |
| SKU | VARRAY10W72K |
| Brand | Voltaic |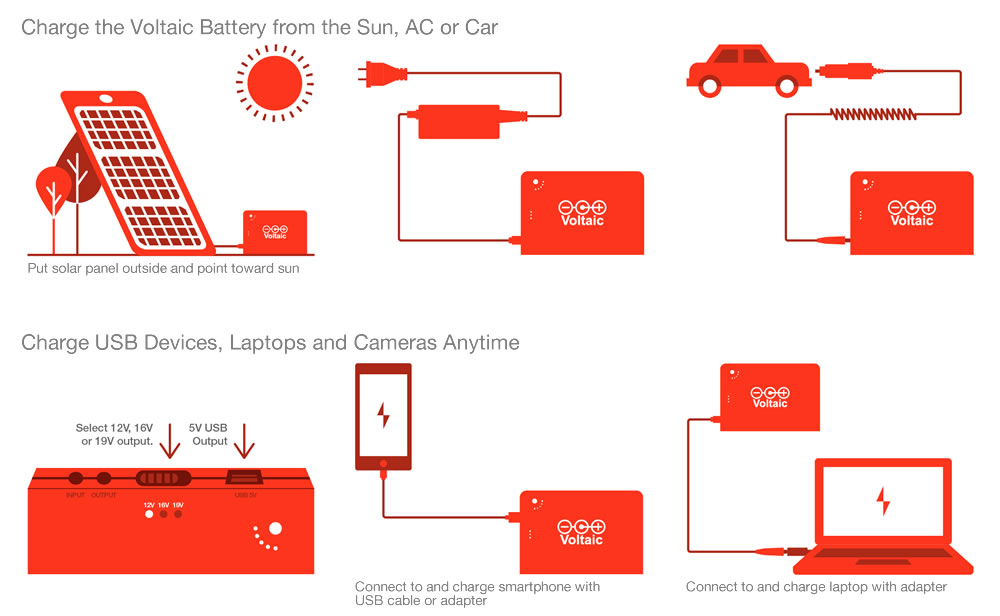 Smartphones:
Charges all USB Devices including all Apple iPhones, Android and Blackberry smartphones.
Tablets:
Charges all known tablets. Only a few tablets require an optional adapter.
Apple: Apple iPads require an Apple Lightning Cable to charge (not included).
Microsoft: Surface Tablets require our optional Surface 2 Cable or our optional Surface Pro 3 / Pro 4 Cable. Set the V72's output to 12 Volts for Surface tablets.
ASUS: Transformer Tablets require our optional FUSB - 5521 adapter used with your own ASUS Transformer USB Cable. Set the V72's output to 12 Volts for Asus tablets.
Digital Cameras:
Charges both DSLRs and cameras that charge from USB. For DSLRs, optional camera charger cradle that matches your camera battery (see Adapter section) is required.
Laptops:
Charges nearly all 15" and smaller laptops. Additional details and known exceptions follow.
Acer: Use our included "N" or "E" adapters
Apple: Pre-June 2012 laptops require our optional MagSafe 1 adapter. Post June-2012 laptops require our optional MagSafe 2 adapter. MacBook Pro 15" may need to be charged in sleep mode. Read our guide to charging MacBooks for more information. For the latest Macbook's you will require VUSB-C-CHARGER
ASUS: Most use either the included battery output cable or included "N" or "L" adapters. UX, Q200, S200 Series require our optional 4.0 x 1.35mm adapter.
Dell: Use the included "J" or "I2" adapters for some Dell laptops. Dell Inspiron / Latitude / STUDIO / VOSTRO series laptops require our optional Dell 7.4mm adapter. Dell Ultrabook / XPS series laptops require our optional Dell 4.5mm adapter.
HP: Some older HPs use the included "J" adapter. Envy series uses included "D" adapter. HP Business / COMPAQ / Pavilion / Elitebook series laptops will require our optional HP 7.4mm adapter.
Lenovo: Use included "K" or "M" (rectangular) adapter
Panasonic Toughbook: Use included Voltaic battery output cable
Samsung: Most modern Samsung use included "E2" or "Q" adapter.
Sony VAIO: Duo and Pro use included "D" adapter
Toshiba: Most use included Voltaic battery output cable
Not compatible with any medical devices, including CPAP machines
7X smartphone charges from Voltaic battery
1.5 hourshours in the sun to charge smartphone
7 hours of smartphone usage from 1 hour in the sun
3X tablet charges from Voltaic battery
2 hours in the sun to charge smartphone
4.5 hours of tablet usage from 1 hour in the sun
1.7X tablet charges from Voltaic battery
3.5 hours in the sun to charge tablet
2.5 hours of tablet usage from 1 hour in the sun
1X laptop charges
11 hours in the sun to charge laptop
40 minutes of laptop usage from 1 hour in the sun
3.5X laptop charges
3 hours in the sun to charge DSLR
---
Others Also Bought
---
More From This Category