Voltaic Arc 20W Solar Charger Kit
Overview :
Lightweight, powerful, and extremely portable - Voltaic's Arc 20 Watt Solar Folder is the perfect source of power for all your adventures.
This versatile folder is coated with ETFE, meaning that it's stronger and more UV resistant than the other solar folders on the market - providing you with a fast and consistent charge, longer.
Keep it folded in your pack while you're hiking and pull it out just in time to soak up that afternoon sun.
Comes standard with the Voltaic V72 universal laptop battery to store and regulate power to all your devices.
Features
Size and Weight
Solar Panel Open: 37 x 11 x 0.03 in (94 x 28 x .08 cm)
Solar Panel Folded: 8 x 11 x 0.75 in (20 x 28 x 1.9 cm)
Battery: 7.3 x 5 x 0.6 in (18.5 x 12.5 x 1.6 cm) 3.25 pounds (1.5 kg) including battery and solar panels
Solar Panel Output
Monocrystalline cells - 19% efficient
Open Circuit Voltage: 20.0V
Peak Voltage: 18V
Peak Current: 1.1A
Peak Current: 19.8 Watts
Solar Panel Construction
ETFE coating
2mm substrate
V72 Laptop Battery
Capacity: 20,000mAh, 72 Watt Hours
Output: 5V/2A USB, and 12V/4A, 16V/3.5A, 19V/3A
Input: 14-20V, 1.2A
Battery Type: Li-Polymer
Protection: Short Circuit, Over Charge, Over Discharge, Over Current, Over Temperature
Battery Functions:
DC Input to Charge Voltaic battery
DC Output to charge laptops
12/16/19V Selector - controls High Voltage Output
USB Output (5 Volts) to charge smartphones and other USB devices
Power Button and Charge Indicator
(VARC20W72K)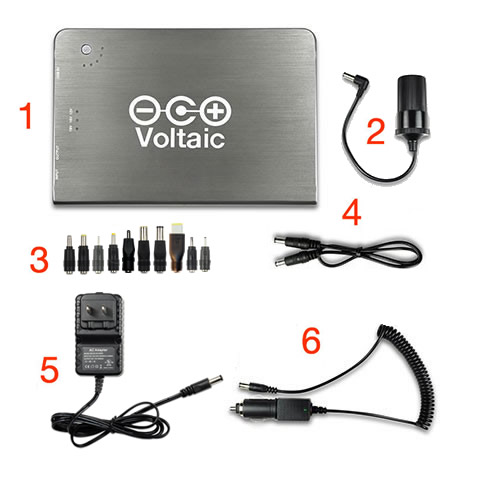 Includes:
Arc 20 Watt Folding Solar Panel +
V72 Laptop Battery
Car Charger Socket - 5.5 x 2.5mm - charges devices that have a car charger
Standard Laptop Adapters
Laptop Output Cable - connects to Laptop Adapters
AC Charger - charges V72 battery from AC
DC Charger - charges V72 battery from DC (car)
| | |
| --- | --- |
| SKU | VARC20W72K |
| Brand | Voltaic |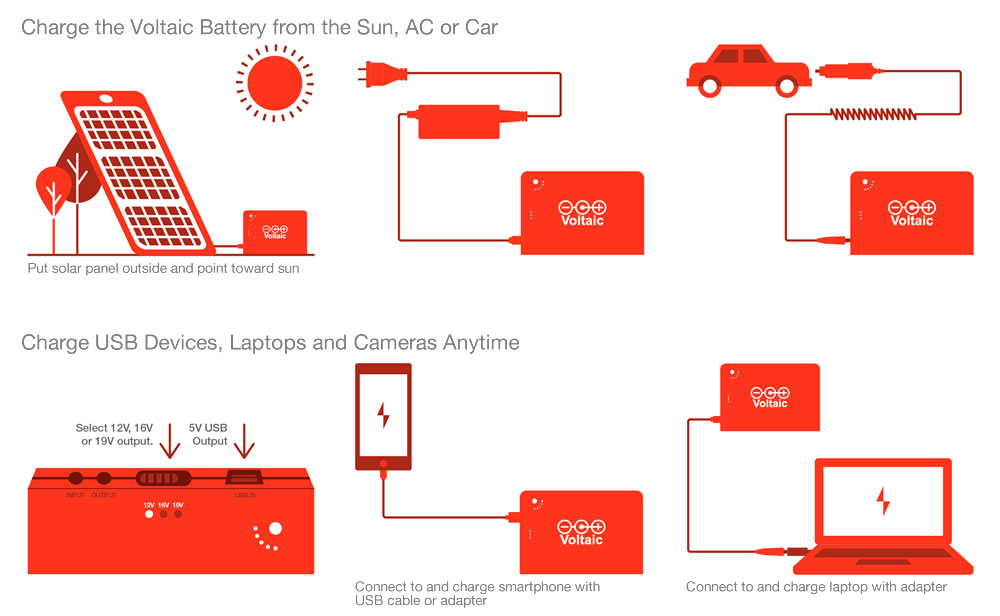 Smartphones : Charges all USB Devices including all Apple iPhones, Android and Blackberry smartphones.
Tablets : Charges all known tablets. Only a few tablets require an optional adapter. ASUS: Transformer Tablets require our FUSB - 5521 adapter
Digital Cameras : Charges both DSLRs and cameras that charge from USB. For DSLRs, optional camera charger cradle that matches your camera battery (see Adapter section) is required. Read our tutorial on solar camera charging.
Laptops :

Charges nearly all 15" and smaller laptops. Additional details and known exceptions follow.
Acer: Use Voltaics standard "N" or "E" adapters
Apple: Pre-June 2012 requires optional reconfigured MagSafe 1 adapter or Apples' Airline adapter connected to Voltaic's standard car charger socket. Post June-2012 MacBooks also require the Apple MagSafe to MagSafe 2 adapter. MacBook Pro 15" may need to be charged in sleep mode. For the latest Macbook's you will require VUSB-C-CHARGER
ASUS: Most use either the battery output cable or standard "N" or "L" adapters. UX, Q200, S200 Series require optional 4.0 x 1.35mm adapter.
Dell: Use Voltaics standard "J" or "I2" adapters. Dell's internal battery will run off Voltaic's battery, but may not recharge. This means you should not run your Dell battery completely flat when planning to use an external battery.
HP: HP Business Class laptops will require an optional HP adapter. Envy series uses included "D" adapter. Older HPs use included "J" adapter. Customer incompatibility cited with Elitebook series.
Lenovo: Use included "K" or "M" (rectangular) adapter
Panasonic Toughbook: Use Voltaic battery output cable
Samsung: Most modern Samsung use included "E2" or "Q" adapter.
Sony VAIO: Duo and Pro use included "D" adapter
Toshiba: Most use Voltaic battery output cable
7X smartphone charges from Voltaic battery
1hours in the sun to charge smartphone
12 hours of smartphone usage from 1 hour in the sun
3X tablet charges from Voltaic battery
2 hours in the sun to charge smartphone
4.5 hours of tablet usage from 1 hour in the sun
1.75X tablet charges from Voltaic battery
3.5 hours in the sun to charge tablet
2.5 hours of tablet usage from 1 hour in the sun
1X laptop charges
6.5 hours in the sun to charge laptop
70 minutes of laptop usage from 1 hour in the sun
3.5X laptop charges
2 hours in the sun to charge DSLR
---
Others Also Bought
---
More From This Category