Dear customers, we are unable to access our warehouse in Brookvale Sydney due to a fire.We are unable to process any orders until further notice.Apologies for this inconvenience.
Voltaic 6 Watt Solar Charger Kit with 15V Battery
At 6 Watts, this waterproof, lightweight panel provides great charging performance for both smartphones and 7" tablets. Slide the panel in your bag or mount it nearly anywhere for a minimal, tough charging solution.
Charge smartphones, tablets and other handheld electronics that charge from USB with the V15 Battery. Use the V15's "Always On" functionality for Arduinos and other devices you want to run 24 x 7.
Upgrade to the V44 battery for more power storage. Refer product code V6W44K
Charge many Android phones directly via the MicroUSB adapter.
6 Watt Panel Specifications (single panel)
Dimensions: 220 x 175 x 5mm
Mass: 241 g
Substrate: 3 mm Aluminum/Plastic
Cell Type: Monocrystalline
Cell Efficiency: 18%
Open Circuit Voltage: 7.0 V
Peak Voltage*: 6.0 V
Peak Current*: 975 mA
Peak Power: 5.85 W
Connector: 3.5x1.1 mm plug
Mount: 4 stainless steel bolts
*Panel output is computed based on cell manufacturer's data assuming 0% reduction of cell efficiency after packaging of cell strings. Electrical output tolerance +/- 10%. Under irradiance of 100 mW/cm2, absolute air mass of 1.5, at 25 °C, as per cell manufacturer's specifications.
Applications and Charge Times
The most common application for this kit is to charge smartphones and tablets via our V15 battery. Some, but not all, Android smartphones will charge directly from the panel via our F3511-MicroUSB adapter. This system will not charge digital cameras that require you to remove the battery for charging.
Approximate Charge Time from 6 Watt Panel**
Voltaic V15 Battery: 5.5 hours
Smartphone via Voltaic battery: 3.5 hours
Smartphone direct (when possible): <3 hours
**For maximum power output, orient the panels towards the sun. When not angled towards the sun, output will be reduced. Dirt and scratches on the face of the panels will reduce the amount of light hitting the solar cells. Clean the panels with a damp non-abrasive cloth. Charge times are estimated based on optimal conditions and may increase in cloudy weather, high temperatures, or when panels are not angled towards the sun.
(V6W15K)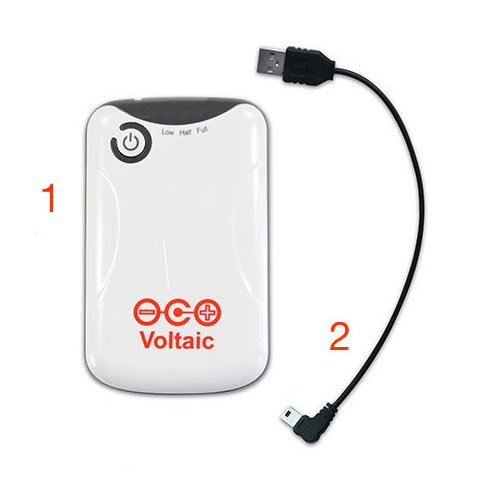 Includes:
6Watts Solar Panel, Panel to Battery Adapter
V15 USB Battery
MicroUSB Cable - coonects battery to devices that charge from micro USB

Smartphones:
Charges all USB Devices including all Apple, Android and Blackberry smartphones.
Tablets:
Charges all tablets that are powered by USB including Apple iPads and Samsung Tablets. Will not charge tablets that charge at 12 or 16 Volts.
Digital Cameras:
Charges both DSLRs and cameras that charge from USB. For DSLRs, optional camera charger cradle that matches your camera battery is required.
1.5X smartphone charges from Voltaic battery
3 hours in the sun to charge smartphone
4 hours of smartphone usage from 1 hour in the sun
0.65X tablet charges from Voltaic battery
6 hours in the sun to charge smartphone
1.5 hours of tablet usage from 1 hour in the sun
0.35X tablet charges from Voltaic battery
11 hours in the sun to charge tablet
50 minutes of tablet usage from 1 hour in the sun
0.8X camera charges
4.5 hours in the sun to charge DSLR
---
More From This Category