Dear customers, we are unable to access our warehouse in Brookvale Sydney due to a fire.We are unable to process any orders until further notice.Apologies for this inconvenience.
Voltaic 6W Fuse Solar Charger with V44 Battery
The Fuse 6W Solar Charger is a lightweight and powerful solar charger for tablets, smartphones, GoPros and DSLR cameras. With its universal attachment system, it connects in seconds to backpacks, bicycles or wherever solar power is needed.
Features
Universal attachment system with four male/female clip sets.
Fabric made from recycled PET (soda bottles) is waterproof, lightweight and UV resistant
Convenient storage for cables, adapters and tablets
Size and Weight
11" high x 8.75" wide x 0.5" deep (28 cm high x 21 cm wide x 1.25 cm deep)
1.3 lbs (600 g) including battery and solar panels
60 cubic inches (0.9 liters)
Solar Panels
6.15 Watts at 6 or 12 Volts (selectable based on charging applications)
Waterproof and UV resistant panels with urethane coating
Compatibility
V44 USB Battery
12,000mAh / 44 Watt hour external battery for iPads, tablets, and other handheld electronics.
Features two USB output ports: a hi-power port for fast tablet charging and a low-power port for smartphones.
Charges from solar or directly from any USB port.
Size and Weight
4" x 4.25" x 0.75" (10.4cm x 10.7cm x 1.9cm)
11 ounces (312g)
V44 USB Battery
Capacity: 12,000mAh, 44 Watt Hours
Output: 5V/2A and 5V/1A USB (2 outputs)
Input: 5-6V, 2A
Battery Type: Li-Polymer
Protection: Short Circuit, Over Charge, Over Discharge, Over Current, Over Temperature
Battery Functions:
Power In to Charge Battery
USB Output to Charge Smartphones
USB Output to Charge Tablets
Power Button
Charge Indicator
(VFUSE6W44)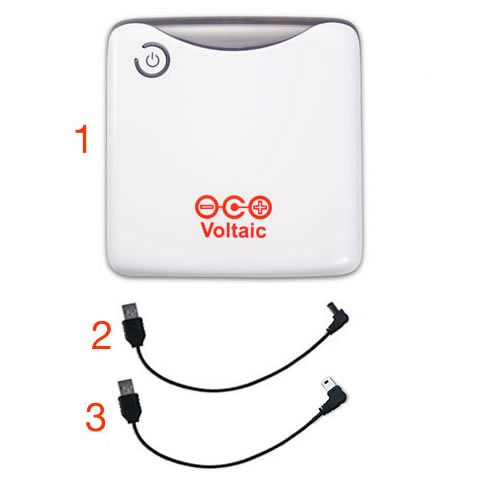 Includes:
Fuse 6W Solar Table Charger+
V44 USB Battery
USB Charging Cable - charges V44 battery from any USB port
MicroUSB Cable - connects battery to devices that charge from MicroUSB
| | |
| --- | --- |
| SKU | VFUSE6W44 |
| Brand | Voltaic |

Smartphones :
Charges all USB Devices including all Apple, Android and Blackberry smartphones.
Tablets :
Charges all tablets that are powered by USB including Apple iPads and Samsung Tablets. Will not charge tablets that charge at 12 or 16 Volts.
Digital Cameras :
Compatible with cameras that charge from USB like GoPros. Not compatible with DSLRs.
7X smartphone charges from Voltaic battery
1.5 hours in the sun to charge smartphone
7 hours of smartphone usage from 1 hour in the sun
3X tablet charges from Voltaic battery
2 hours in the sun to charge smartphone
4.5 hours of tablet usage from 1 hour in the sun
1.7X tablet charges from Voltaic battery
3.5 hours in the sun to charge tablet
2.5 hours of tablet usage from 1 hour in the sun
1X laptop charges
11 hours in the sun to charge laptop
40 minutes of laptop usage from 1 hour in the sun
3.5X laptop charges
3 hours in the sun to charge DSLR
---
More From This Category