Dear customers, we are unable to access our warehouse in Brookvale Sydney due to a fire.We are unable to process any orders until further notice.Apologies for this inconvenience.
OffGrid Solar Backpack - VOG10W44V
Take power anywhere with the redesigned OffGrid Solar Backpack. Featuring a high-efficiency solar panel and USB battery pack, this backpack charges smartphones, DSLR cameras and other USB devices as fast as at home.
10W at 6V high efficiency matte black solar panel
12,000mAh USB Battery Pack (2 USB Ports)
25 L Of Storage
Padded 15" Laptop/Tablet Sleeve
Made From 33 Recycled Plastic Bottles (Recycled PET Fabric)
Shown With Optional Camera Insert
(VOG10W44)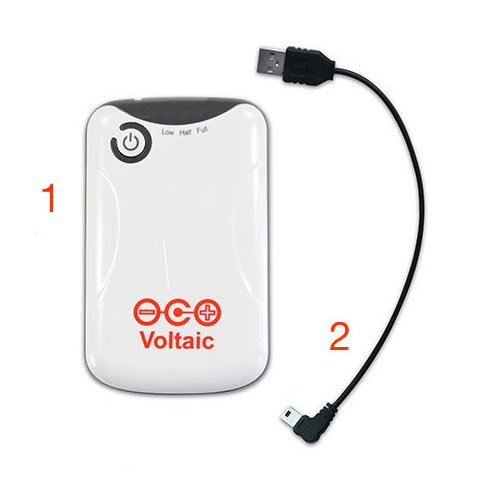 Includes:

V44 USB Battery
MicroUSB Cable - conects battery to devices that charge from micro USB
USB Charging Cable - charges V44 battery from any USB port
| | |
| --- | --- |
| SKU | VOG10W44 |
| Brand | Voltaic |

Smartphones:
Charges all USB Devices including all Apple, Android and Blackberry smartphones.
Tablets:
Charges all tablets that are powered by USB including Apple iPads and Samsung Tablets. Will not charge tablets that charge at 12 or 16 Volts.
Digital Cameras:
Charges both DSLRs and cameras that charge from USB. For DSLRs, optional camera charger cradle that matches your camera battery is required.
4X smartphone charges from Voltaic battery
1.8 hours in the sun to charge smartphone
6 hours of smartphone usage from 1 hour in the sun
1.7X tablet charges from Voltaic battery
4 hours in the sun to charge smartphone
2 hours of tablet usage from 1 hour in the sun
1X tablet charges from Voltaic battery
7.5 hours in the sun to charge tablet
1.2 hours of tablet usage from 1 hour in the sun
2.5X camera charges
3 hours in the sun to charge DSLR
---
More From This Category