Voltaic Converter 3.4W Solar Backpack with V15 Battery
Overview :
The Voltaic Converter Solar Backpack is a streamlined bag for commuting and short trips. With 3.4 Watts of power, it will quickly charge all your handheld electronics. A padded laptop sleeve and sizable front pocket keeps everything secure and in easy reach.
3.4 Watts of Solar Power: 1 hour in sun = 75 minutes talk time.
Battery: Up to 14 hours talk time or 68 hours music playback.
Solar Panels
A 3.4 watt monocrystalline solar panel generates power in sunlight. They are waterproof, lightweight, and rugged.
Power: 3.4 watts total peak output at 6 Volts
Charge times: 6 hours in the sun fully charges a typical phone, 1 hour provides about 75 minutes of talk time.
V15 Universal USB Battery
Included battery charges efficiently from solar and stores power for use anytime. When not in the sun, it can be charged using the USB Power Cable or optional DC car charger, making it just as useful on the grid as off. Charge devices from the USB Port using your own cable or the included Micro USB and Mini USB adapters.
Charge time: V15 battery fully charges from 11 hours of direct sun or using any USB port or optional DC or AC chargers.
Capacity: 4,000mAh, 15-watt hour capacity
Output: 5 V, 1000 mA
Input: 5-6 V, 1000 mA
Charge devices from the USB Port using your own USB cable or the included Micro and Mini USB adapters.
Bag
Volume: 16 litres, enough room for a laptop and gear for a day trip.
Dimensions: 46cm high x 31cm wide x 15cm deep
Weight: 1,090 grams including battery and solar panels
Fully padded, dedicated laptop sleeve: Fits up to a 17" laptop (17" MacBook, larger 17" laptops may not fit)
Storage: One main compartment with 2 interior pockets, laptop sleeve and front pocket for charging and small electronics.
Built for Comfort: High density padding in the shoulder straps and back. Mesh backing material for better air flow
Fabric: 600D shell made from recycled PET (soda bottles),which is waterproof, lightweight, and UV resistant.

Compatibility

Voltaic solar chargers are designed as universal chargers so this is a partial list of thousands of compatible devices. If you have a question about compatibility with your device or expected charge times, please contact us at info@multipoweredproducts.com.au
(VOC)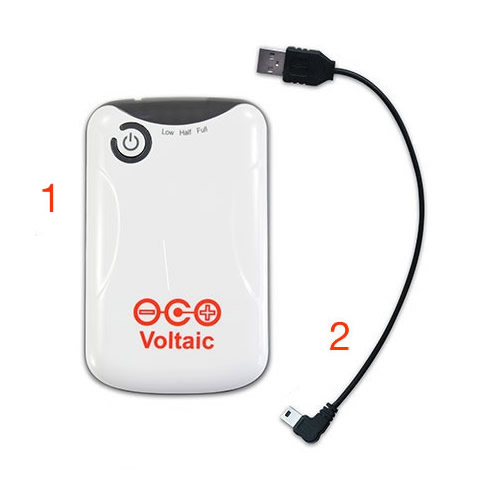 Includes:
Convereter Solar Backpack +
V15 USB Battery
MicroUSB Cable - coonects battery to devices that charge from micro USB

Smartphones:
Charges all USB Devices including all Apple, Android and Blackberry smartphones.
Tablets:
Charges all tablets that are powered by USB including Apple iPads and Samsung Tablets. Will not charge tablets that charge at 12 or 16 Volts.
Digital Cameras:
Charges both DSLRs and cameras that charge from USB. For DSLRs, optional camera charger cradle that matches your camera battery is required.
1.5X smartphone charges from Voltaic battery
4.5 hourshours in the sun to charge smartphone
2 hours of smartphone usage from 1 hour in the sun
0.65X tablet charges from Voltaic battery
10 hours in the sun to charge smartphone
1 hours of tablet usage from 1 hour in the sun
0.8X camera charges
7.5 hours in the sun to charge DSLR
---
Others Also Bought
---
More From This Category