Voltaic 18 Watt Solar Laptop Charger Kit
Combine the V72 universal battery with three lightweight and waterproof 6 Watt solar panels to make an 18 Watt, 18 Volt solar laptop charger. Attach the panels to webbing or any thin material. (Voltaic have a blog post with a suggestion) If you're looking for a minimal, but ultra-tough and fast solarlaptop charging solution, this is it. The kit includes:
3 x 6W Solar Panels
1 x 3 Panel Circuit Box
1 x V72 Laptop Universal Battery with connectors
6 Watt Panel Specifications (single panel)
Dimensions: 220 x 175 x 5mm
Mass: 241 g
Substrate: 3 mm Aluminum/Plastic
Cell Type: Monocrystalline
Cell Efficiency: 18%
Open Circuit Voltage: 7.0 V
Peak Voltage*: 6.0 V
Peak Current*: 975 mA
Peak Power: 5.85 W
Connector: 3.5x1.1 mm plug
Mount: 4 stainless steel bolts
*Panel output is computed based on cell manufacturer's data assuming 0% reduction of cell efficiency after packaging of cell strings. Electrical output tolerance +/- 10%. Under irradiance of 100 mW/cm2, absolute air mass of 1.5, at 25 °C, as per cell manufacturer's specifications.

Applications and Charge Times
This is Voltaic's most powerful kit for charging laptops via the V72 battery. Since there are three panels, you should have a plan for managing them in your application (attach to fabric or some other material). This kit also works well for digital camera charging with a suitable charging cradle.
Approximate Charge Time from three 6 Watt Panels**
Voltaic V60 Battery (18V Setting): 7 hours
Smartphone via Voltaic Battery: 1 hours
Digital Camera: 2 hours
**For maximum power output, orient the panels towards the sun. When not angled towards the sun, output will be reduced. Dirt and scratches on the face of the panels will reduce the amount of light hitting the solar cells. Clean the panels with a damp non-abrasive cloth. Charge times are estimated based on optimal conditions and may increase in cloudy weather, high temperatures, or when panels are not angled towards the sun.
(V18W18V)
| | |
| --- | --- |
| SKU | V18W18V |
| Brand | Voltaic |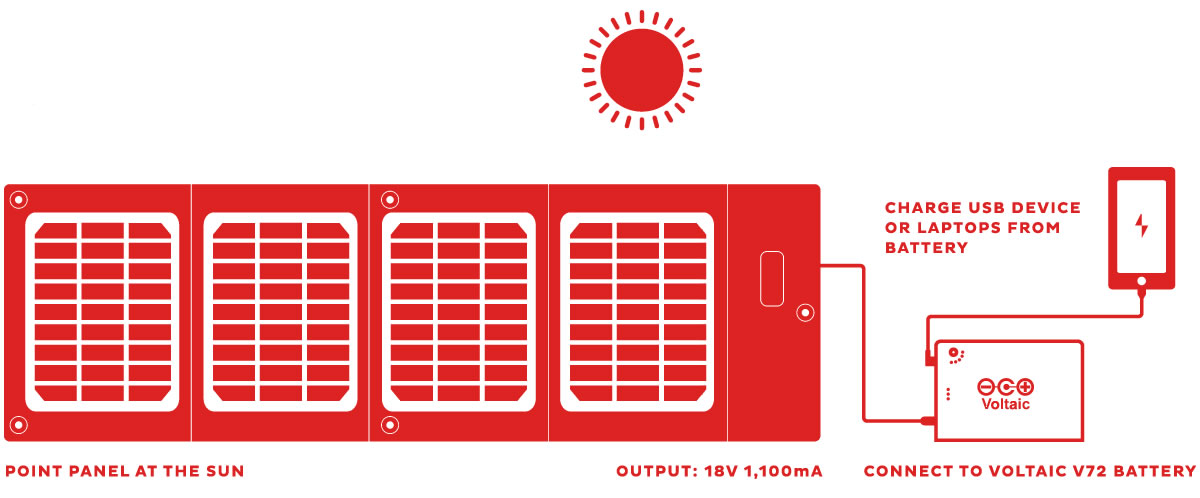 Smartphones : Charges all USB Devices including all Apple iPhones, Android and Blackberry smartphones.
Tablets : Charges all known tablets. Only a few tablets require an optional adapter. ASUS: Transformer Tablets require our FUSB - 5521 adapter
Digital Cameras : Charges both DSLRs and cameras that charge from USB. For DSLRs, optional camera charger cradle that matches your camera battery (see Adapter section) is required. Read our tutorial on solar camera charging.
Laptops :

Charges nearly all 15" and smaller laptops. Additional details and known exceptions follow.
Acer: Use Voltaics standard "N" or "E" adapters
Apple: Pre-June 2012 requires optional reconfigured MagSafe 1 adapter or Apples' Airline adapter connected to Voltaic's standard car charger socket. Post June-2012 MacBooks also require the Apple MagSafe to MagSafe 2 adapter. MacBook Pro 15" may need to be charged in sleep mode. For the latest Macbook's you will require VUSB-C-CHARGER
ASUS: Most use either the battery output cable or standard "N" or "L" adapters. UX, Q200, S200 Series require optional 4.0 x 1.35mm adapter.
Dell: Use Voltaics standard "J" or "I2" adapters. Dell's internal battery will run off Voltaic's battery, but may not recharge. This means you should not run your Dell battery completely flat when planning to use an external battery.
HP: HP Business Class laptops will require an optional HP adapter. Envy series uses included "D" adapter. Older HPs use included "J" adapter. Customer incompatibility cited with Elitebook series.
Lenovo: Use included "K" or "M" (rectangular) adapter
Panasonic Toughbook: Use Voltaic battery output cable
Samsung: Most modern Samsung use included "E2" or "Q" adapter.
Sony VAIO: Duo and Pro use included "D" adapter
Toshiba: Most use Voltaic battery output cable
7X smartphone charges from Voltaic battery
1.5 hourshours in the sun to charge smartphone
7 hours of smartphone usage from 1 hour in the sun
3X tablet charges from Voltaic battery
2 hours in the sun to charge smartphone
4.5 hours of tablet usage from 1 hour in the sun
1.7X tablet charges from Voltaic battery
3.5 hours in the sun to charge tablet
2.5 hours of tablet usage from 1 hour in the sun
1X laptop charges
11 hours in the sun to charge laptop
40 minutes of laptop usage from 1 hour in the sun
3.5X laptop charges
3 hours in the sun to charge DSLR
---
Others Also Bought
---
More From This Category